Marketing Your Team to Gen Z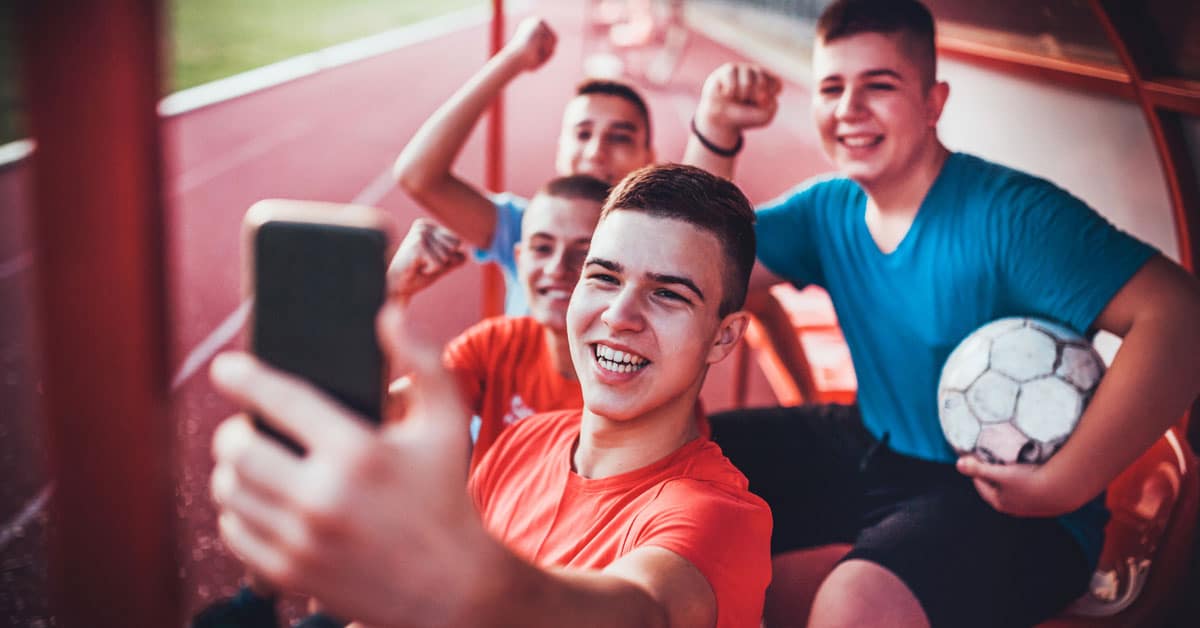 For us to properly address the topic at hand, let's first clarify just who Generation Z is. Essentially, they are the generation just after Millennials with birthdates from the mid to late 90s to just about 2010. Perhaps an easier way to describe this group would be teens to twenty-somethings. For most sports brands, this demographic group represents a critical KPI for their marketing efforts.
The very simple answer as to why Gen Z is so important to market to is that today's 22 year old is tomorrow's 35-54 year old. This important demographic group not only has buying power (some $360 billion dollars in 2021) but they soon grow to be the demo that buys cars, houses, couches, and in some cases … season tickets. If you can connect with them now, your ability to engage them later is much easier.
WHY DO SPORTS TEAMS STRUGGLE TO MARKET TO GEN Z?
Let's continue by acknowledging that Gen Z has had the benefit of the internet since birth. For good or for bad, they've had the ability to access all types of entertainment and information from a wide array of providers for as long as they can remember. That makes them the most amorphic demographic group in the history of mankind. There's just nothing monolithic about their media consumption or their consumer habits.
Given their aversion to the mainstream, marketing to Gen Z audiences is done almost entirely through digital means. People like me want to say we're super smart because we recognize that platforms like Instagram, Tik-Tok, and YouTube are being utilized by vast numbers of these so-called 'Zoomers'.
But the reality is that the vast diversity of content offered by these platforms vexes marketers intent on reaching this audience. This is particularly challenging for sports teams who feel they checked the box with their marketing strategy by creating an account and posting their images or videos.
See? We're forward thinking!
As Lee Corso would say, "not so fast, my friend…"
GEN Z HAS OPTIONS WHEN IT COMES TO ENTERTAINMENT
The vast amount of content on social platforms means all brands big and small, sports and non-sports, must vie for the attention of an audience that is as unique as the content being offered up. To give you some context, when I sold cable, consumers had 27 channels to choose from. Finding young people was easy (MTV, E!, ESPN, ESPN 2, etc.). While there may not be 27 social media platforms, there are most certainly what seems like an infinite amount of content for this demo to consume. And consume they do – with something like 85% of Gen Z audiences engaging YouTube on a daily basis.
To complicate matters further, this demographic audience doesn't necessarily want curated content. They prefer content that is genuine, unedited and original.
But in one sense, isn't 'non curated content' the very definition of sports? I think it is … but Zoomers may not see it that way.
To provide clarity to my point, two teenagers making a Tik Tok video based on some impressive dance moves may get the same or more engagement from a Gen Z audience than a replay of an Aaron Judge home run.
We marketers got our first hint of this from Millenials and have seen this subsequent generation become even more challenging. All that being said, you can, with the right strategy, MAXIMIZE your impact on Gen Z by adapting specific marketing strategies that foster engagement for this extremely difficult audience segment..
WHAT ARE GEN Z'S FAVORITE SOCIAL PLATFORMS?*
32% use Youtube more than any other social media site
35% use Snapchat more than any other social media site
15% use Instagram more than any other social media site
SIX TIPS THAT HELP FOSTER ENGAGEMENT FROM GEN Z AUDIENCES
Here are six (6) tips that will help you to garner greater engagement from your efforts to connect with this audience. How much time, effort, and money you put into your Gen Z strategy is up to you with a deep understanding that they represent more of the future than the present.
Unique social media content … Gen Z audiences like to feel/know/have access to things others don't have. A recent study on Gen Z consumers found that 64% of them want personalized experiences from brands. If you have the resources, consider splitting your social media content feed to create some type of special access designed specifically for this audience. It should have elements that are behind the scenes, interaction with key players, fashion, food, off field/court events. It could even contain relevant sponsor offers.
Access … I get that sports ticket prices are dictated by a free market economy. I wouldn't necessarily recommend that you compromise revenue with deep discounts on tickets. Except that Gen Z is not necessarily as privileged as their Millennial counterparts. In other words, they don't lease BMW's and live with their parents. They are price conscious but also love experiences, so discounted ticket offers can be a great way to engage the Generation Z audience. Get creative and either work with an existing sponsor or develop one that wants to engage this demographic group as well. One very simple way to do this is to have a ticket offer relevant to college or high school students. You can control just which games you can make available for this promotion. Executing this properly doesn't disenfranchise your season ticket holders, should never impact the secondary market, and helps to make young people fans of your team. Don't know how to do this? Send me a note as I've been involved in the text to ticket program for ASU students.
Inclusion … Gen Z audiences like to see that your sports brand embraces all types of people. They will most likely be the first generation of Americans unencumbered with social prejudices. It's important to note that 48% of the total Gen Z audience identifies as non-white; 20% are LGBT, and they are the highest educated demographic group in history. Zoomers like individualism and they embrace brands that do the same.
Advanced Technology … Want Gen Z audiences to come to your games? Make ticket acquisition digital and easy, which I think most every team does nowadays. Also, be sure to provide them with both information and opportunity to enhance their pre and post game activities. Make sure your game ops folks embrace things like ride sharing, mobile payments, and enhanced wifi access. Whenever possible, incentivize on site 'Instagram-worthy moments' that may include branded backdrops, field or court access and other unique ways to make anyone attending your sporting event cool AF. If you haven't already, develop the ability to order concessions on a mobile device and have them delivered to your seat. Not as big of a deal for those of us that are used to waiting in line but a big win for a demographic group that's been conditioned to the conveniences of a digital world.
Environmentally Conscious… Gen Z tends to have a bleak outlook for our planet. Market (and operate) accordingly. One great example of this would be the Footprint Center rights deal with the Phoenix Suns. This dynamic partnership speaks volume to Generation Z … come to our games and use our biodegradable plastics. Well done, Phoenix Suns! Work to make your sporting events as close to zero waste as possible and be sure to tell your Gen Z constituents that you care about the planet as much as they do.
Gaming… Don't discount the ability to build community with this audience through gaming. For sports brands, this would potentially mean engaging in some very high-level partnerships involving big-name game developers like EA sports. To date, most local team efforts have been less than effective with simple, less popular, and less sophisticated games buried on a website that garner little to no engagement.
In general, marketing is not for the faint of heart – or perhaps better stated, effective marketing strategies are far more complex than you might think. For sports teams looking to engage a distracted and over stimulated audience, marketing needs to encompass more than just an advertising message. Because budgets are limited but expectations are not, sports marketers need to be deft at their analysis, creative with concepts and efficient in their execution.
Want to learn more about engaging audiences with your sports marketing strategy? Contact me at ed.olsen@linedrivesportsmarketing.com.